Crude Words, Ragpicker Press (2016)
Ragpicker Press co-founder Tim Girven approached me one day to do a joint project. His passion for Latin America and my Venezuelan roots made the way ahead pretty obvious: together with Katie Brown we have edited a 100,000-word collection of thirty texts by thirty Venezuelan authors in English translation–a bold initiative that unveils the largely undiscovered talent of a country that remains in the periphery of the literary establishment.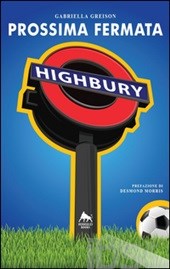 Next Stop, Highbury, Herkules Books (tbc)
Published in Italy in 2010 by the respected journalist Gabriella Greison, Prossima Fermata, Highbury was picked up by Herkules Books in 2014, and I was approached by the publishing house to carry out the English translation. A collection of twenty-two short stories focused on different football stadiums in and around London, this 30,000-word book provides a sweet look into what people abroad think of England and English football.
This multimedia project by Peruvian-Venezuelan author Doménico Chiappe is one of the most intriguing initiatives in which I have taken part recently. Engaging directly with the visitor, this programme requires the "reader" to open one door after the next and to quite literally step into an investigation concerning the murder of a young woman. Part game, part crime novel, part something I can't quite pinpoint, this translation has stayed with me far longer than it took me to complete it.
The Football Crónicas, Ragpicker Press (2014)
A not-for-profit initiative by the people at Ragpicker Press, this collection of Latin American texts in English translation was designed to be launched with the start of the 2014 football World Cup. The book consists of eleven crónicas that form the core of the proposal, the first XI, as it were, followed by three additional texts waiting on the sidelines. These include stories set in Argentina, Brazil, Bolivia, Chile, Colombia, Costa Rica, Ecuador, Mexico, Peru, Uruguay – and Nueva Iorque. A late comer to the project, I was utterly delighted to be able to contribute with the translation of one of the crónicas, 'San Martín de Brooklyn Eye the Play-Offs' by Hernán Iglesias Illa.
MAGAZINES
I've had the opportunity to work with several periodic publications in various capacities: before it was discontinued in 2015 I proofed the English texts of the final twenty-three issues of the bilingual documentary photography magazine OjodePez (quarterly), and I have also copy edited, proofed and translated material for the yearly lifestyle magazine Matador in Spain. In 2012-13 I translated three numbers of Banco Popular's employee magazine (+) Popular and over the years I have collaborated as translator and proofer as well as contributor and blogger at the online magazine fronterad.com.